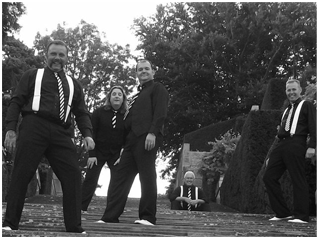 The Band
John Maidstone
Lead vocals... nice chap
Scott Stevens
Lead guitar... vocals... alright guy
Matt Crittenden
Drummer... vocals... the one you will talk to on the phone
Ian Crittenden
Sax... vocals... friendly sort
Al Smith
Bass... vocals... small chap, always smiling... up to something maybe?
About Burst....thats us!
Burst are a five piece band formed way back in 1989 that deliver an infectious blend of live music spanning the decades, a library of greatest hits that all will know and in a unique manner that will keep you off your seats all night long. We could do what so many bands do and name drop about who we have performed with but we are five chaps, a bit odd and out to make you dance....well that's what all the famous people did.
Functions are what we do, in fact we are experts at "doing party's" We have performed at hundreds from 18th to 70th's and our sets are very adaptable. Themed party's have become very popular recent ones include, 007 Bond nights, Grease nights, 50's and 60's nights.
Weddings...bespoke,sums it up.
Weddings are a personal affair and we make sure your evening is a unique bespoke event. Your every request will be addressed, first dances, favourite tunes, even down to the volume at which you require the band to perform. We can even compose your own set list of tunes to be played during our breaks...oh yes you do not need a disco we have all that!
Unlike most bands we do not stipulate set times, none of that "only two 45 minute sets" we like to perform all evening, its what we enjoy, although we do like to be in bed before dawn.
Now for some boring stuff....we do have public liability insurance and all our equipment is safety tested...glad that is out of the way.